How to choose the right solar energy partner
April 19, 2022
Partner with a solar power expert who can correctly evaluate your needs
Partner with a solar power expert who can correctly evaluate your needs
Switching to solar energy is an empowering, cost-effective and fulfilling move. You are finally paying less for electricity and contributing to a greener future. But after some time, you may find yourself experiencing some issues you didn't sign up for; here are some common problems you may come across;
If your provider installs the solar PV system correctly, it can be a layer of protection for your roof materials below it. But if they don't install it properly, it can compromise your roof's integrity. A damaged roof is costly on its own, but it can lead to even more damage as the property could now be unprotected from the elements such as rain.

Your solar modules spend all their time outside, yet it is an electrical asset, so some components shouldn't get moisture in them. If the lamination on the panels degrades or is compromised, it can cause internal corrosion. Corrosion can cause your solar energy system to malfunction, degrade quicker or not work. This is most likely a product quality issue due to equipment used that isn't of Tier 1 standard. Ensure you have the correct warranties in place to claim for these kinds of damages.

You might know a guy who could fix the toaster and start your car, but that doesn't qualify them to install or maintain your solar system. An unqualified technician is the primary cause of loose connections, corrosion, and oxidation that may interfere with electricity production.

Another problem that solar buyers experience are micro-cracks. The cracks are so minuscule that you may not be able to see them with your naked eye. But over time, those cracks grow and compromise the solar panel's efficiency. They occur as a result of faulty production, mishandling during shipping or even if a contractor walks on the panels during the installation process. Once again, this is why a reliable, professional service is a necessity from the beginning because they can ship and install your system with better care.
The above scenarios are usually the causes of your solar energy system breaking down, becoming harder to maintain, and being far more expensive than you anticipated. Getting your installation done right in the first place is how you reduce the risks of the above scenarios. Choosing the right solar energy service provider will save you time, money and energy in the future.
What should you look for in a solar power service provider?
You probably have a personal bank account, which has excellent services and products, but your business bank account is on another level with all the financing options, advice, and management services available. Knowing what you know about the vast difference between a personal and business account, you would never try to use your personal account for business. Choosing a solar service provider is similar; whilst there is a massive difference between installers of home solar systems and those installing solar systems for commercial and industrial businesses, the quality and level of workmanship should be of the highest standard.
Switching to solar is a big decision, and the plethora of choices in the market makes it harder to discern who you should pick. When you choose to go solar, here is how you can go about selecting a provider;
It would be best if you had a solar service provider with the requisite expertise. There are solar manufacturers, agents and retailers in the market, but what you need is a solar provider that delivers a turnkey solution, not just panels.




You need an experienced and insured solar service provider. Your provider should have general contracting and electrical experience. You want competent, experienced hands to be handling your wiring and electricals. SolarAfrica is an authorised, experienced and insured solar energy provider, so there is minimal risk in working with us.



The service provider should come with a workmanship warranty. The warranty will cover the repairs if an issue arises due to the installation (like a loose panel). Workmanship warranty can be anywhere between 1 and 20 years. But be careful when assessing a warranty; a company can promise a 10-year warranty just to get your contract, but there is no guarantee they will be around that long so match the promise of the warranty with the company's history. A company that's been around for decades is likely to be around for much longer.




Your solar service provider should have a traceable history. Renewable energy is an exciting and growing industry that is attracting all types of people from diverse backgrounds. Rather than risking your energy needs on a company that can drop your project before completion, hire a company that can show you previous installations similar to yours. The project is too important to risk a company making rookie, cost-cutting mistakes. SolarAfrica has ten years of experience in the industry, handling projects as far as Kenya and helping local blue-chip companies with their solar projects.



The solar energy service provider should take your energy requirements into account. Each client in any industry has unique energy needs; furthermore, their energy goals may be different as well. You need a provider that will take that into account when drafting a solution for you. Some providers are out there to sell you whatever they have in stock or increase their sales by upselling you. SolarAfrica requests 6 -12 months of electricity bills, downloads metering data where possible and logs your power usage for 2 weeks to produce a detailed report that will include information on future expansion possibilities, hours of operation, public holiday consumption, local weather patterns, and more to advise on the best solar energy solution suited to your business. Many competitors assume the best-case scenario and deprive you of making an informed decision.





Stock a range of high quality (Tier 1 ) products. A single brand service provider is limited by the brand they have in stock. They may not be as adept at providing you with a customisable solution because they have a limited range. A provider with a wide range of products can offer you more solutions and a customised package. Depending on the brand and established relationships with an OEM (Original Equipment Manufacturer) can also provide you with a more comprehensive range of warranties, sizes, prices and a service that is top class.





Your service provider should give you a detailed and professional proposal or quote. To install a solar system requires more than panels; it comes with components (like inverters, optimisers and batteries), a system design customised to your needs, expected power generation, and warranty terms.




Financing is how any project gets off the ground. Launching a solar power project for commercial, industrial and residential complexes can be financially straining. While you may pay for everything in cash, you may want to look at other financial options. Solar providers can get you access to loans, where you pay monthly instalments after paying a deposit. Another option is solar leasing or a PPA agreement, wherein you only pay for what you use and won't bear the risk of poor quality products or workmanship. SolarAfrica offers a PPA service, so you can get greener and save money without any capital outlay.



Aftercare and support. For something as vital to your operations as energy, you don't want to base your interactions with your provider only on transactions but also on relationships. It's all good, and well, that installation was a success, but what happens down the line when there is an issue with your panels? What happens when your solar system switches off, and you can't turn it back on? After-sales services ensure that your business isn't left in the dark. The fault could be a simple or complex issue, but having experts on call to swiftly find the problem and solve it will save your business time and money. Keep in mind that the cost of not having your solar module working isn't just the loss in energy production but also the loss in operations (sales, manufacturing, serving clients).

Make the smart choice from the beginning and partner with a solar energy provider that will have your future in mind, not a quick sale. Get the solar energy solution customised for your unique needs with no capital outlay.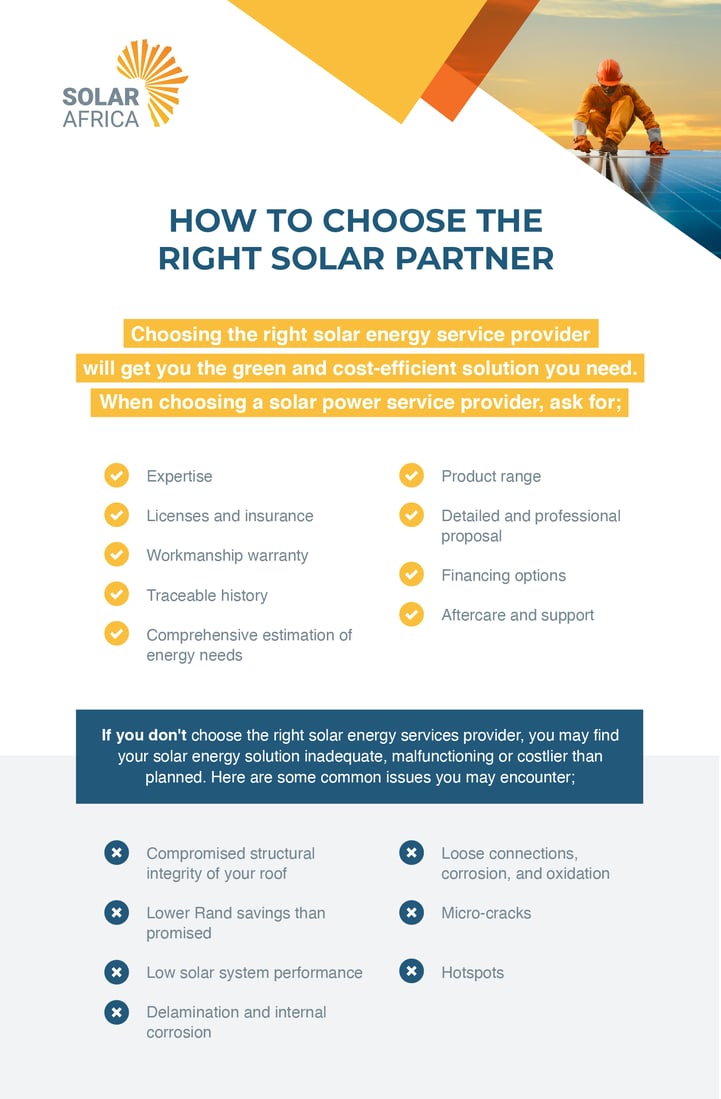 Our team of experts frequently share insights and knowledge from the world of solar. Keep up to date with these by following us on LinkedIn today.